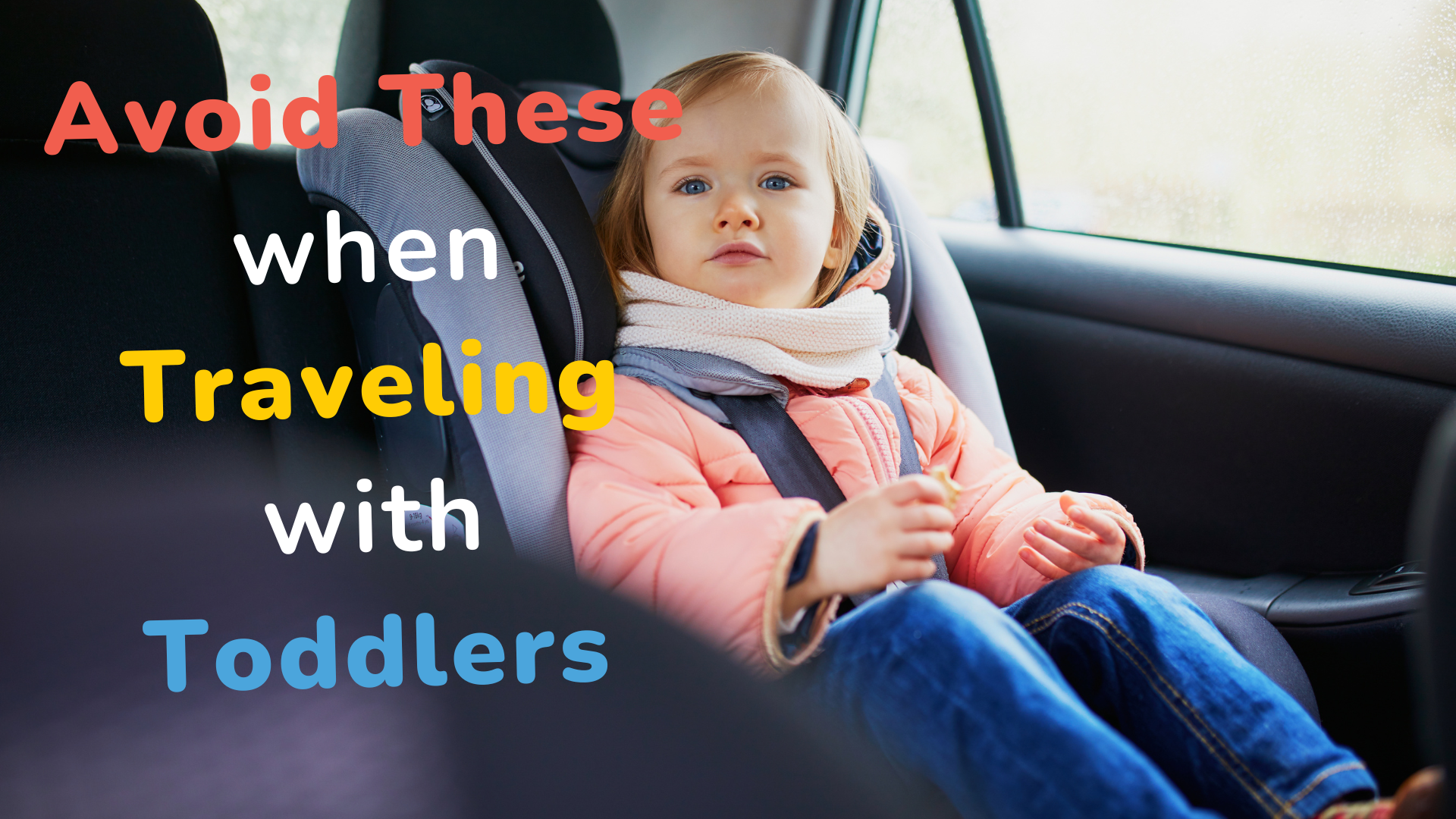 Can the journey itself be part of the fun on a long car ride with kids?
Summer means vacations, long car rides to new or loved destinations, and the inevitable question, "Are we there yet?". Kids get quickly bored when spending a lot of time in their car seats, which means we have to Prepare, Anticipate and Distract. 
What NOT TO DO during long car rides this summer? (expert tips for long road trips with toddlers, infants, or youngsters)
1. DO NOT OFFER SCREENS! I know most kids will sit still in their car seats with a tablet or iPad in their hands, but they will not enjoy or remember the road trip if they are stuck with their eyes on a game/movie. These drives offer new opportunities to enjoy seeing new things, explore new ways of entertaining themselves, and make memories.
2. NO PLAY TRAY, IF POSSIBLE! There are far too few car seat travel trays that are safe and crash-tested. If you want one, check the manufacturer details that are crash-tested and compliant with National Highway Traffic Safety Administration. A good children's travel tray should be made of soft and collapsible materials that won't put any child at risk during travel.
3. DO NOT OFFER HOT FLUIDS WHILE DRIVING! This seemingly harmless action has serious repercussions, such as burns and scalds. Infants and toddlers are more prone to burns than adults because their skin is thinner and more sensitive. Additionally, they might not have developed entirely reflexes, which might cause them to react slowly or be unable to escape danger. Driving causes shocks and bumps, which are easily the cause of spills and resulting burns and scalds. Additionally, the hot beverage may distract the driver and increase the likelihood of an accident. Different options: When traveling with young children, choose cold drinks over hot ones like tea or juice boxes because they are safer options.
4. DO NOT CARRY LOOSE OBJECTS! These unsecured items threaten our kids' safety because they can become projectiles in the event of sudden stops or accidents inside a moving vehicle. Even seemingly innocuous objects, like water bottles, toys, or groceries, can become projectiles with a lot of force when an accident occurs. Children and adults alike can suffer severe injuries from the impact of these objects, including head trauma, fractures, and lacerations. Secure everything: Make sure everything in the vehicle is securely fastened. Use storage compartments, limit heavy or large goods, pack children's stuff properly, and use seatback organizers, cargo nets, or trunk organizers to keep things in their proper places.
How to keep an 18-month-old entertained in the car?
1. Pop Tubes! These simple items can bring a lot of fun on long car rides. With endless opportunities, vibrant colors, and catchy crinkly noises, this is a hit among toddlers starting at 12 months and up.
2. Soft Baby Dolls! The first question that pops up is: Do 18-month-olds play with dolls? Yes, both girls and boys find dolls appealing. These soft dolls are a secure option for long car rides. All six multicultural dolls are soft fabric carry baskets. It helps explore emotions, promotes language development, and builds self-esteem.
3. Reusable and Mess Free Coloring Book! This travel coloring book comes with a water pen that allows easy filling. It's a mess-free road trip activity that holds children's attention.
4. Quiet Books! Another mess-free activity that children love is soft books. Filled with hands-on activities, like this book, that can be done in the car, plane, or anywhere. This Quiet Book has 9 Montessori activities that will keep any toddler occupied for long periods. Any youngster will be kept busy for a long time. This book's genius lies in its lack of loose pieces, making it suitable for young children.
Embracing the journey itself is an alternate strategy that can promote a deeper connection and long-lasting memories. You may turn routine travels into magical ones by engaging with your child and having fun on the road. 
It's essential to appreciate the importance of simplicity and connection in a world where stimulation is constant. A chance for quality time, connecting, and learning is created when you embrace the road and take your child along for the ride. Put the toys and electronics away and allow yourself to be enchanted by the scenery outside your car window.