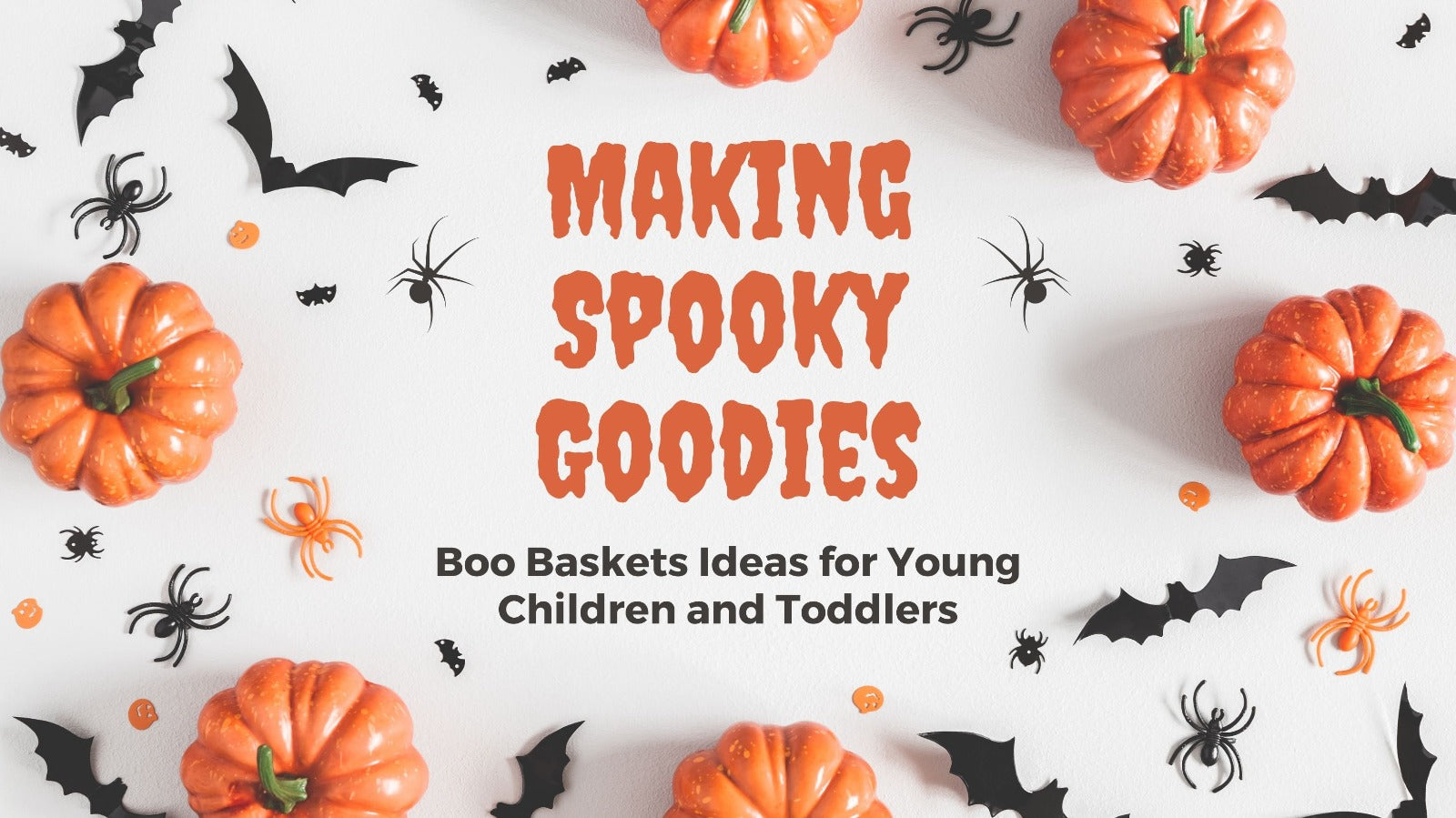 What is a Boo Basket?
Halloween is a time for surprises and thrills. A fun tradition that has grown in popularity recently is the "Boo Basket." Boo Baskets are fun gifts anonymously given to friends, family, or neighbors. They are filled with treats and goodies. These beautiful surprise gifts are a great way to make people happy and celebrate Halloween.
We've got some spooktacular ideas for goodies to include in your Boo Basket if you're thinking about making one for young children or toddlers. Not all of the items are frightening; some are educational as well. Additionally, we've included links to Amazon USA so you can easily find these things online.
What do you put in a Boo Basket that your toddler will love?
Let's dive into some BOO-tiful basket ideas:
Halloween-themed Books!
A good time to read some scary or not-so-scary stories is around Halloween. You might choose to fill your Boo Basket with age-appropriate Halloween-themed books. Here is a timeless selection that young children and toddlers love to hear at bedtime: How to Make Friends with a Ghost,  Pick a Pumpkin,  The Leaf Thief,  Gustavo, the Shy Ghost,  Gilbert the Ghost,  Pumpkin Day at the Zoo.
Activity Books with a Halloween theme
Toddler activity books are a great way to involve young children in the Halloween spirit. Activity books are meant to be educational as well as enjoyable. Age-appropriate tasks like coloring, tracing, matching, zipping, dressing, and easy puzzles are frequently incorporated. With these engaging activities, toddlers may have fun while developing their hand-eye coordination, fine motor skills, and cognitive ability. Look these up on Amazon, some have to do with Halloween, some don't, but they will be a great addition to any toddler's Boo Basket: for kids aged 9-12 Halloween Activity Book,  My Daily Activity Book for Toddlers,  Room on the Broom Big Activity Book,  Spooky Funny Halloween- My Very First Sticker Activity Book
Halloween-themed Bath Bombs!
 To begin, choose bath bombs with a Halloween theme made with toddlers in mind. Seek bath bombs that are made to be soft on their delicate skin and free of harsh chemicals. Check these Halloween bath bombs for kids on Amazon. These bath bombs frequently have spooky colors and shapes, like pumpkins, ghosts, or bats. Look them up on Amazon: 9 Pack Halloween Bath Bombs with Halloween Toys inside,  Bath Bombs for Kids with Surprise Inside.
Your youngster should be encouraged to interact, feel, and touch the water from the bath bomb. This might be a fantastic chance for exploration and play with the senses.
Stay warm and cozy with themed pajamas!
Including kids' Halloween-themed pajamas in a Boo Basket is a great idea to add some comfort and spooktacular fun to their Halloween celebration. Pajamas with a Halloween theme help to create a festive environment before bed. Even after they are snuggled into bed, they give kids the impression that they are a part of the celebrations for Halloween. We have chosen items that are 100% cotton, of excellent quality and reasonable cost, suitable for all age groups, and not overly frightening: Burt's Bee Baby Pajamas, 2-piece,  Girls' Halloween Pajamas,  Baby & Toddler 2-piece matching siblings Pajamas Set
This Halloween, express your creativity, imagination, and self-expression with a cute costume!
For children, dressing up in adorable Halloween costumes is a treasured practice with many advantages. It promotes imagination, creativity, and role-playing, which helps kids express themselves and gain confidence. In addition to increasing excitement and social interaction, costumes allow children to role-play and learn about different cultures and roles. This fun and essential Halloween practice fosters family connections and creates lasting memories. Some adorable costumes for babies and toddlers for this 2023 Halloween: Baby realistic lion costume,  Disney Toy Story Toddler Woody Costume,  Astronaut Costume with a Helmet.
Craft Supplies
Craft items with a Halloween theme can inspire creativity. Halloween coloring pages, stickers, and markers will keep children occupied and happy.
Check out these wind chime kits for children(a great deal on Amazon), or this pumpkin sticker rolls for Halloween activities and decorations. These Halloween-themed squishes on Amazon, known as blank jumbos, are ideal for letting little hands express their creativity.
Spooky snacks
A Boo Basket wouldn't be complete without some delicious snacks. Choose Halloween-themed treats like fun-sized candy bars, gummy bears, or pumpkin-shaped baked goods. Even healthier options, like these jelly pumpkins or these spooky fruit nibbles, are available on Amazon.
Glow-in-the-Dark Decor
Decorate your walls and ceiling with glow-in-the-dark stars or spooky stickers to create a mystical Halloween atmosphere. These will give the event an additional magical touch: Bats wall décor-glow in the dark,  Glow Sticks Bulk.
When should you do boo baskets?
Usually, Boo Baskets are finished in the weeks before Halloween. The start of Boo Basket exchanges is typically before Halloween, although there's no set of rules about it. This timing gives everyone enough time to enjoy the festive surprises before the celebration on October 31st, allowing the Halloween spirit to grow.