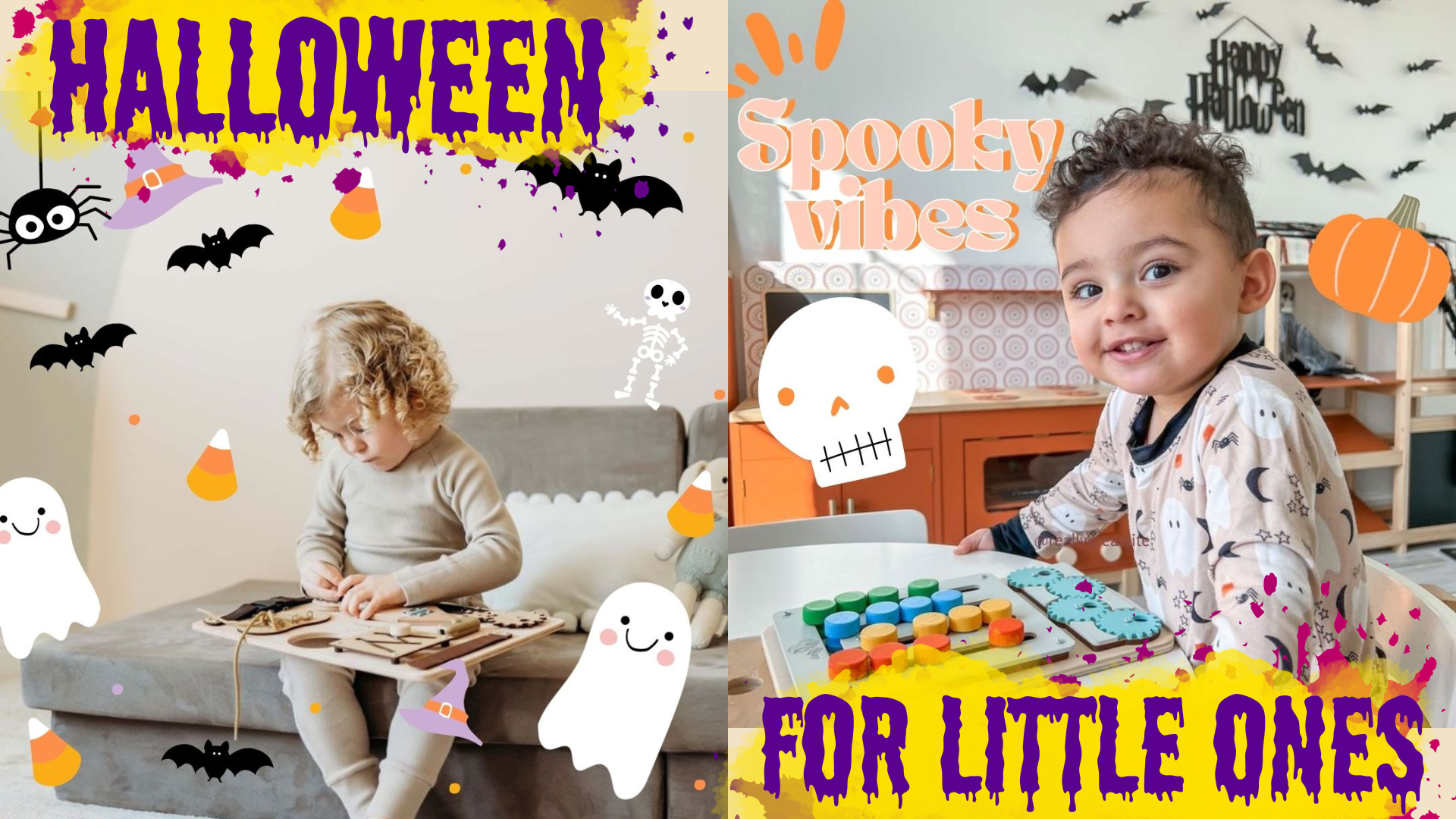 How do we explain Halloween to young children and toddlers?
Celebrated in many countries, particularly the US, Halloween is a unique and enjoyable holiday. People of all ages love to decorate their homes, dress up in costumes, and have a great time during this time. You can help young children understand the basics of Halloween by using simple yet engaging language when describing the holiday.
Start by mentioning that Halloween is a unique and thrilling occasion that occurs only once a year(this year falls on a Tuesday, and Halloween is on the 31 of October 2023). Describe how people like dressing in unique costumes on Halloween. They can dress up as superheroes, animals, or even their favorite characters. Bring up trick-or-treating, but don't get too technical. Tell them that kids walk door to door in the evening, saying "trick or treat," and they get candy from generous neighbors. Remind them that one of the fun things about Halloween is obtaining sweets. When they go trick-or-treating, they can fill a bag with delicious sweets. Show them images of funny faces carved into pumpkins. Describe how these pumpkins, known as Jack-o'-lanterns, are carved and then lit with candles inside. It resembles a Halloween decoration. Explain how some people decorate their homes with creative and occasionally spooky decorations like spiders, witches, and ghosts. The neighborhood appears unique thanks to these decorations.
Assure them that Halloween is just a time to celebrate and that there is nothing to fear. It has nothing to do with actual creatures or anything frightening. Highlight that families should spend time together on Halloween. You can discuss enjoyable family activities like creating costumes or buying one like this astronaut costume, carving pumpkins, and indulging in unique sweets. Offer children stories or books about Halloween that are age-appropriate(see below). They can be enthusiastically excited for the celebration with these. Get youngsters involved in easy crafts or activities with a Halloween theme, such as creating paper ghosts or coloring pictures. Getting children involved can help them feel more connected to the celebration.
Introducing toddlers to Halloween can be thrilling and joyful, but it's crucial to consider their age and developmental stage. Find more about the origin and history of Halloween in this article.
Halloween is one of the most popular holidays, filled with costumes, candy, and spooky displays. However, what is the best way to share the thrill of Halloween with your toddlers?         
With these recommendations below, you can ensure that Halloween is age-appropriate, safe, and enjoyable for even the tiniest goblins.
The tips that follow can be used to introduce toddlers and young children to Halloween:
Keep it Sweet and Simple: Halloween is an exciting occasion, but it's important to keep things simple for young children. Make sure your explanations are clear and uncomplicated. Inform them it's a time for costumes, pumpkin carving, and collecting candy(treats). No more detailed ghost and zombie stories!
Age-Appropriate Activities: Interactive activities are a big hit with toddlers. Use activities that are appropriate for their developmental stage to keep their young minds occupied, such as coloring images or books (on sale on Amazon) with a Halloween theme or making pumpkin-themed crafts. Playdough, play foam, or pumpkin seeds can make for delightful Halloween sensory play activities.
Dress to Impress: Get your youngster excited about dressing up. Choose loose-fitting, comfy clothing so your child can participate in the celebrations without feeling constrained. The excitement of transformation is the essence of Halloween!
Cozy Story Time: It's a beloved custom to have story time. Select vibrant, approachable board books or picture books for your child, like this one with Pete or this one with Corduroy's Best Halloween Ever. Tell your toddler stories about jolly pumpkins, friendly witches, and adorable monsters to help them get into the Halloween spirit.
Investigate the Pumpkin Patch: While carving pumpkins may be a bit too sophisticated for young children, investigating a pumpkin's interior or creating drawings with washable markers like these ones is a great substitute. Let their imagination go wild!
Decorate Your Home Delightfully: Use decorations that won't frighten your children, like these ones that you can find on Amazon. Consider paper bats, paper ghosts, or friendly jack-o'-lanterns. Even better, you can let your toddler help make and hang these decorations.
Tiny Treats: Serve your child little, Halloween-themed snacks like cookies or a piece of candy to help introduce them to the idea of Halloween treats (in moderation, of course). Their eyes will sparkle with these tiny pleasures.
Family-Friendly Community Events: Look for neighborhood pumpkin patches, costume parades, and kid-friendly Halloween parties suitable for the whole family. These activities provide a fun and safe atmosphere for your toddler to get into the spirit of the holidays.
Avoid the Scary Stuff: Although many people love Halloween, you should be careful not to expose your young child to scary things like haunted houses or frightening costumes. Before getting them ready for a spookier experience, stick to a bright and amiable environment.
Safety First: Make sure your toddler is safe by dressing in reflective materials and having the right kind of supervision if you decide to go trick-or-treating. Always maintain a close eye on their thrilling experiences.
If you customize the Halloween experience for toddlers based on their age and interests, it may be a fantastic and unforgettable occasion. Easy, safe, and enjoyable Halloween activities will produce enduring memories for your kids. Prepare yourself for a Halloween that is full of candy rather than tricks! Wishing you and your little pumpkin a happy Halloween!