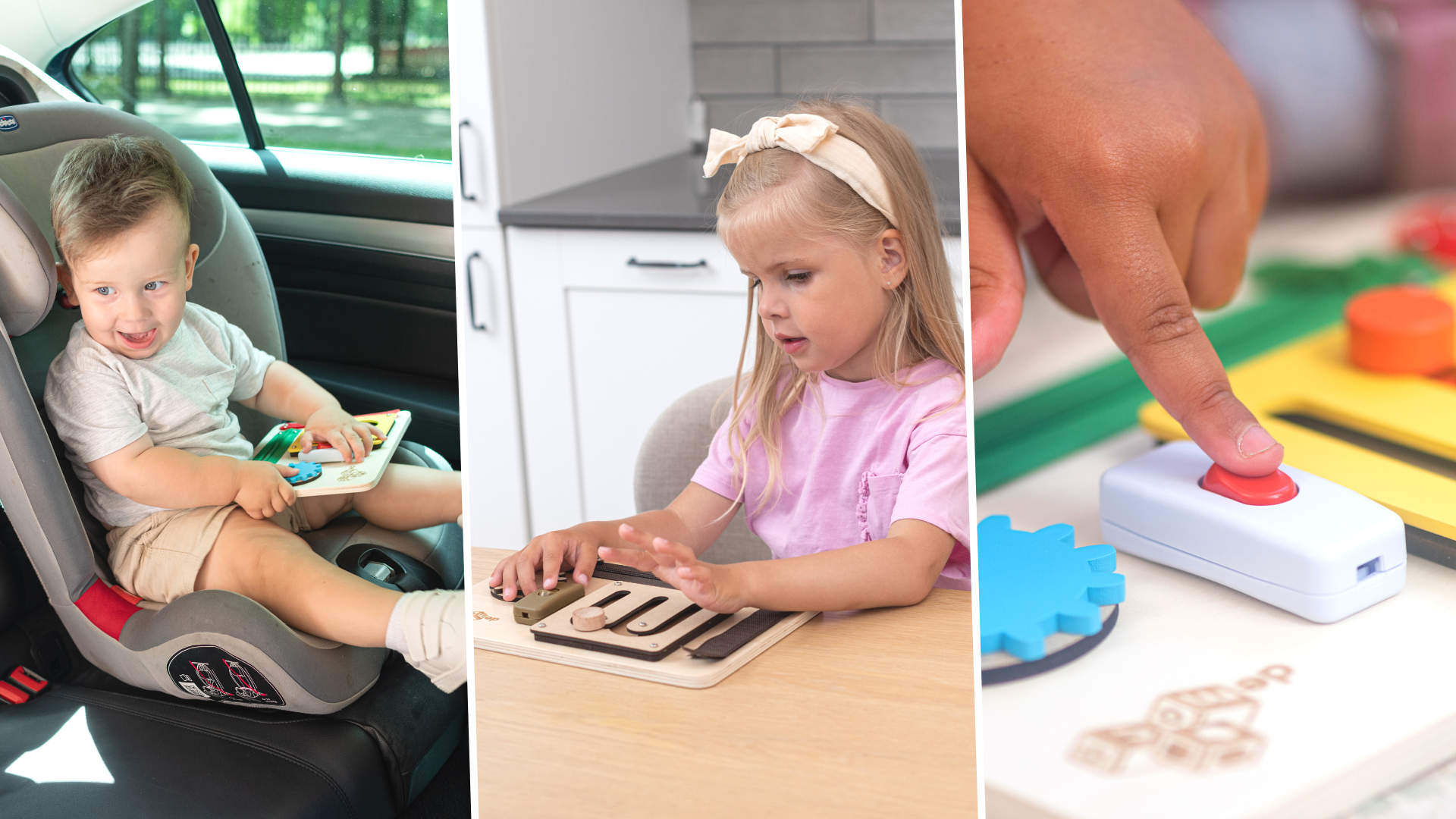 We understand the value of giving our kids toys that will keep them entertained and stimulate their growth in a fun and safe manner. We are therefore thrilled to present the MINI Busy Board, our newest invention that is especially meant for kids around the age of one. This amazing toy is debuting on Amazon and generating much buzz among parents.
The First of Its Kind 
Because it has been certified to be safe for children under two, the MINI Busy Board is the first of its kind available on the market. We aim to develop a product that not only engages your child's interest but also assures their safety because we recognize how important child safety is.
The MINI Busy Board: Why Choose It?
Priority One is safety: Safety has been our main focus during our team of professionals' rigorous design process for this product. With its non-toxic and BPA-free construction, the MINI Busy Board is completely safe for your child to play with and discover.
Developmental Benefits: The MINI Busy Board is a helpful and entertaining tool. It is intended to improve your child's motor and cognitive abilities. Your child will be entertained for a long time while developing their fine motor skills because of the many interactive items, which include buttons to press, Velcro to pull, switch to flick, and more.
Small and Lightweight: We recognize convenience is important to parents on the go. Because of its small size and low weight, the MINI Busy Board is ideal for traveling. Your child will always have access to fun and education with the MINI Busy Board, which is small enough to carry in your luggage and is perfect for trips to the park, visiting family, or simply taking a walk. 
Simple to Clean: Although kids might be messy, cleaning our MINI Busy Board is a breeze. It only has to be cleaned with a moist towel to be prepared for more play.
Never-ending Entertainment: With its eye-catching activities and vivid colors, the MINI Busy Board provides countless hours of fun. It's made to keep your young children interested and entertained while encouraging play-based learning.
Ideal gift: Searching for the perfect baby shower or birthday present? It's a thoughtful and useful option that parents will love: the MINI Busy Board. It is an everlasting gift that promotes the child's growth and development.
Parents Feedback 
We take pride in our commitment to quality and safety, and the MINI Busy Board has already garnered rave reviews from parents who have had the chance to try it out:
"My one-year-old can't get enough of the MINI Busy Board! It's amazing how it keeps her occupied and helps her learn at the same time." - Sarah P.
"I love that I can take this with me wherever we go. It's been a lifesaver during long car rides and visits to the doctor's office." - Mark D.
"As a parent, safety is my top concern, and I'm so relieved to have found a busy board that's designed for my little one's age group. This is a game-changer." - Emily W.
Grab Your MINI Busy Board Right Now
Do not pass up the chance to give your child access to an engaging and safe entertainment and learning environment. The perfect addition to your child's playtime routine, the MINI Busy Board is now available on Amazon. To place your order right now, click the following link: MINI Busy Board.
Go to Amazon to get the MINI Busy Board on a special launch offer TODAY!
With the MINI Busy Board, you can make an investment in your child's growth and give them the gift of enjoyment, knowledge, and security. It's a decision you won't regret, and your child will thank you for it with smiles, laughter, and newfound skills.