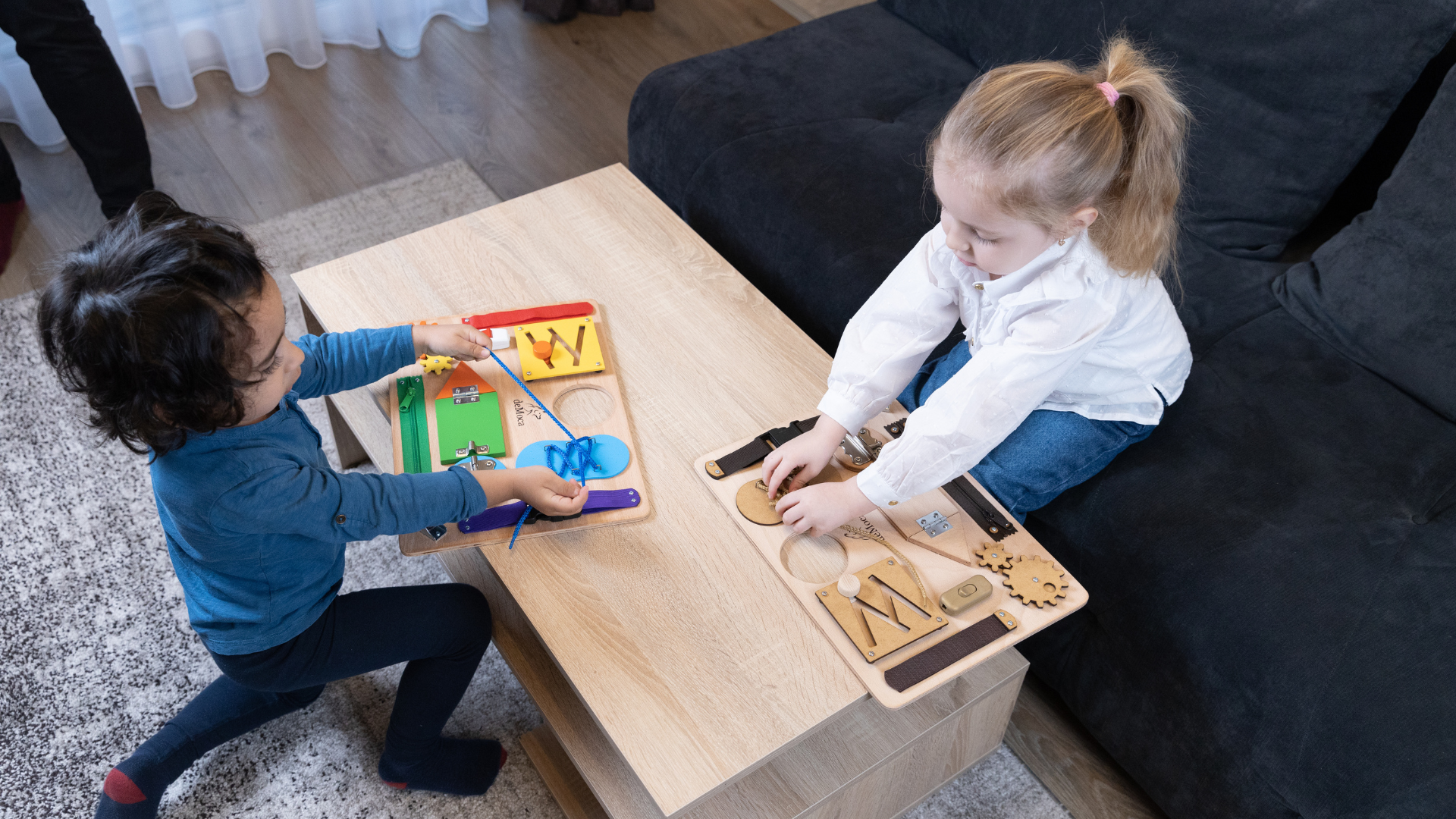 But first, why your baby needs one?
Babies and young children love to explore, but do we love letting them explore those switches, slamming doors, pressing any button they find around the house, or tying your shoelaces tightly? I guess not!
If there is a safer way to satisfy their desire to explore the forbidden items they see daily, that is a busy board. This way, they can manipulate any possible dangerous or forbidden item for as long as they want, safely and without damaging any valuable thing.
Are there other benefits besides parents' tranquility and toddlers' satisfying curiosity?
Fine and gross motor skills, sensory experiences, problem-solving skills, language, and the list go on and on. All those activities on the busy board help each child develop their much-needed skills and satisfy their curiosity and need for manipulating daily household items.
And to be honest, these wooden boards give us parents a break and quiet time for kids.
Also, they are a secure place for children with autism, and special needs children, where they can calmly and quietly engage in sensory activities.
 At what age should busy boards be introduced?
Depends mainly on the busy board and the baby's skill level. While most are advertised as suitable from a few months of age, we highly recommend checking the official standard tests. Most busy boards are ideal for children three and up.
You are the most suitable to know if a busy board is safe and adequate for your little one. Each child is different and has their personality, skills, and interests. When choosing a busy board, have all this in mind.
Also, consider the portability aspect; since most kids get very excited about these busy boards, some will want to carry them around all day. A perfectly sized one with smooth edges and appropriate weight might be a better choice. Or you could have one that can be mounted on the wall and another that your kid can take when going out and need some entertainment.
Another aspect to consider is the quality of the materials used, whether they are safe for children and if they have detachable items.
Should you make one or buy one?
If you are skilled enough, you can definitely make one yourself. A good quality busy board that you can buy on the market usually has all items carefully crafted so children won't get hurt, no sharp edges, safe, non-toxic paints, and designed to work on different skills on one busy board.
We recommend buying one. There are many options on the market, including some reasonable offers like this deMoca busy board. Has ten sensory activities, with real-world challenges and daily activities like locks, door, shoe lace, maze, buckle, and more. Not to mention it is travel friendly.
The most successful elements on a busy board?
While there are endless variations on a busy board, some elements are quite successful and popular among little hands. We talk about the door latches, zipper, shoelaces, switches, maze, gear, and buckles. 
All these items are a huge success due to the freedom to explore and exercise at their own pace, tying, knotting, rotating, moving elements, buttoning and unzipping, opening, and many more. They get to understand the basic movements of daily activities, how most items work around the house, and how they can use it easily and safely.
Let them work their way into independence with a busy board!
A toy to press, move, close, open, and where all senses are involved, from touch, sight, to hear. Play alone or share the experience of learning and practicing with another person. And the best part is the timeless aspect of this toy. A child will always find a skill to work on and practice. If made from quality materials, like this one; it can definitely be passed from generation to generation.