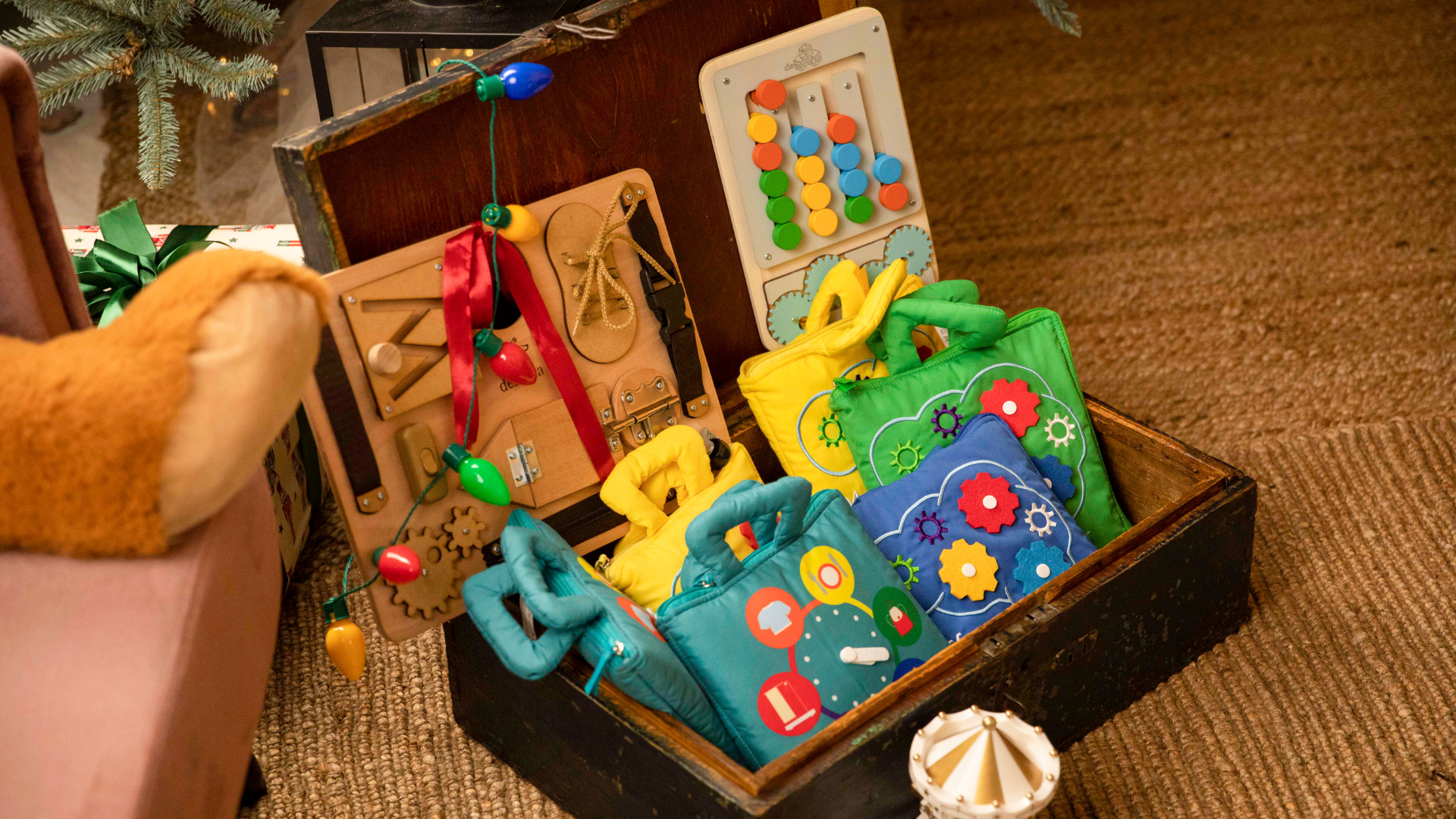 The importance of choosing the right toy
Offering suitable toys help children learn and develop skills, unleashing creativity and having fun too.
Choosing the right toys for your little one can be overwhelming, with so many options on the market, all promising to help/develop children of all ages.
We should first acknowledge that buying far too many toys hoping they all contribute to our children's development and happiness, is not healthy for either parents or kids. But choosing age-appropriate toys makes all the difference in a healthy environment.
According to Montessori philosophy, toys should not be loud, move, talk, or be flashy. Those types of toys only force the child to watch passively. No creativity or skills are developing, and no exploration or stimulating experiences are happening. A Montessori toy, or at least a Montessori-inspired toy, engages little minds, promotes open-ended play, and helps children develop skills (problem-solving, coordination, focus, creativity, critical thinking, and so on). All happening while they are having fun, being fully engaged in the play process.
If it were to pick just a few toys based on the age range for toddlers, it would be:
The Busy Board
With ten sensory activities, this wooden toy is one of the most appreciated toys among toddlers and young children. This wooden busy board uses real-world challenges usually forbidden to little kids, like locks, latches, snaps, buckles, door opening, and so on.
Why we love it: This board, which is based on Montessori principles, helps children with their fine motor skills, and it usually keeps kids busy and focused for long periods.
It's perfectly sized, being suitable for car rides, flights, or gatherings. It has a round, smooth handle for little hands to carry it—no batteries, no lights, no sounds, just natural materials, safe for children. 
Who is it for: This busy board is a great sensory activity for young children and a learning activity for pre-schoolers.
The Quiet Book
An educational toy that every two-year-old and up needs. There are 9 activities where children can learn to match Velcro colored shapes, time, and how to button, use the zipper, or tie shoelaces. As its name says, it's for those quiet plays, where young children engage by themselves, being busy and focused on getting how the button or the zipper works.
Why we love it: It has NO losing parts, which makes it great to offer even to little kids, that would explore the textures, colors, and shapes. It has pretty little handles and a zipper that holds it together when traveling or walking in the park. It teaches kids about basic activities they will soon be doing independently. It can be chewed, pulled, and so on. It's sturdy and washable.
Who is it for: It's for every 2-year-old and up, usually around three years old, children tend to get more into wanting to use the zipper, buttons, or buckles on their own.
The activity Book
Do you have "big toddler" tantrums where they want to dress or feed themselves, prepare meals and walk the dog? This activity book will benefit you and your kids if you are at that stage. This felt book has daily activities like dressing, preparing for sleep, brushing teeth, preparing meals, or walking the dog. It encourages real-life skills practice that children love repeatedly doing, building their way to self-care and independence.
Why we love it: It offers sensory play, but with no mess, and works on their dexterity, fine motor skills, and perseverance—works on their critical thinking and positive social behavior.
Who is it for: It's for kids ready to take some daily activities into their hands. Usually, around 3-4 years old, children tend to become more independent.
Puzzle Board
Last, The Puzzle Board is the toy that lights up every toddler's interest, creativity, and healthy competition. It just keeps kids engaged, focused, and off screens whenever necessary. It works on their logic matching, problem-solving skills, pattern recognition, and more. It's fun, challenging, and suitable for those more engineering-oriented because it's working on the needed skills.
Why we love it: It can be played alone or with others, and it can be used by kids one-year-old and older. Young kids can use the puzzle board to work on their dexterity. Use it like a sensory toy for toddlers 2 and 3 to learn colors and shapes and try sorting them, and children over four years old can use the card included to solve the pattern, adding time or competition (healthy competition).
Who is it for: it's one of the most versatile toys from deMoca that can be used from one year old, and it's also for five years old boys or girls.
Try to offer the RIGHT toys at the RIGHT time. Just a short search on google and you'll find out what it's best for your child. Toys that stimulate learning by encouraging children to experiment are the best. Those that can be touched, manipulated, and held by little hands are preferable.
Toys should be: SIMPLE, NATURAL, PRACTICAL, AND ATTRACTIVE!